Planetary Ball Mills are used wherever the highest degree of fineness is required. In addition to well-proven mixing and size reduction processes, these mills also meet all technical requirements for colloidal grinding and provide the energy input necessary for mechanical alloying. The extremely high centrifugal forces of a planetary ball mill result in very high pulverization energy and therefore short grinding times.
The PM 100 is a convenient bench top model with 1 grinding station.
You may also be interested in the High Energy Ball Mill Emax, an entirely new type of mill for high energy input. The unique combination of high friction and impact results in extremely fine particles within the shortest amount of time.
Application Examples
Alloys, Bentonite, Bones, Carbon Fibres, Catalysts, Cellulose, Cement Clinker, Ceramics, Charcoal, Chemical Products, Clay Minerals, Coal, Coke, Concrete, Compost, Electronic Scrap, Fibres, glass…
Product Advantages
Powerful and quick grinding down to nano range
Reproducible results due to energy and speed control
Suitable for long-term trials
2 different grinding modes (dry and wet)
Optional pressure and temperature measuring system PM GrindControl
Wide range of materials for contamination free grinding
Safety Slider for safe operation
Perfect stability on lab bench thanks to FFCS technology
Innovative counter weight and imbalance sensor for unsupervised operation
Comfortable parameter setting via display and ergonomic 1-button operation
Automatic grinding chamber ventilation
10 SOPs can be stored
Programmable starting time
Power failure backup ensures storage of remaining grinding time
Jars with O-type sealing for safe operation, pressure tight
Function Principle
The grinding jar is arranged eccentrically on the sun wheel of the planetary ball mill. The direction of movement of the sun wheel is opposite to that of the grinding jars in the ratio 1:-2.
The grinding balls in the grinding jars are subjected to superimposed rotational movements, the so-called Coriolis forces. The difference in speeds between the balls and grinding jars produces an interaction between frictional and impact forces, which releases high dynamic energies. The interplay between these forces produces the high and very effective degree of size reduction of the planetary ball mill.
Planetary mills with a single grinding station require a counterweight for balancing purposes. In the Ball Mill PM 100 this counterweight can be adjusted on an inclined guide rail. In this way the different heights of the centers of gravity of differently-sized grinding jars can be compensated in order to avoid disturbing oscillations of the machine.
Any remaining vibrations are compensated by feet with some free movement (Free-Force Compensation Sockets). This innovative FFCS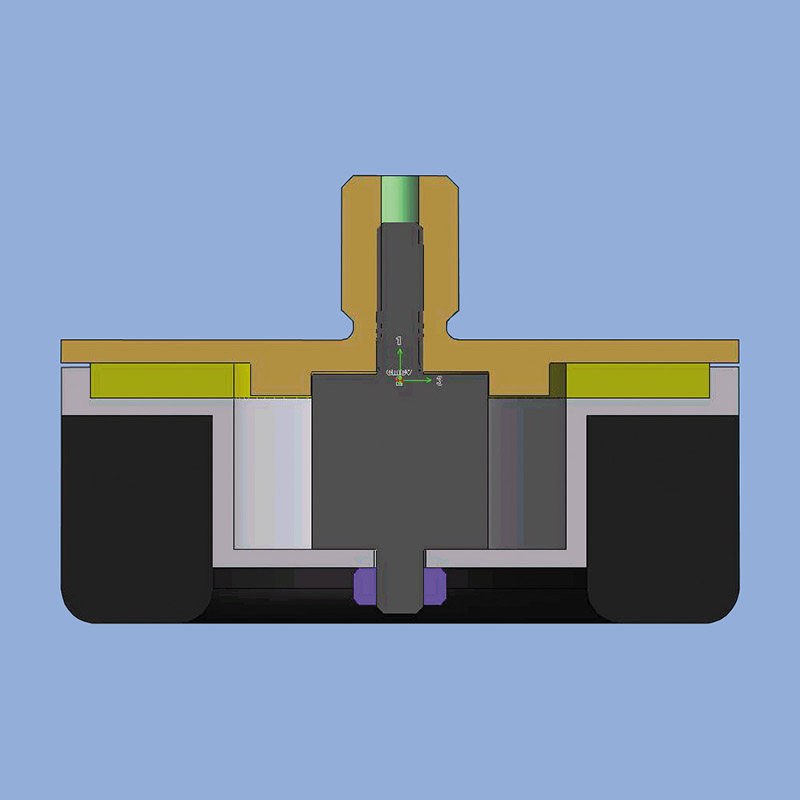 technology is based on the d'Alembert principle and allows very small circular movements of the machine housing that result in an automatic mass compensation. The laboratory bench is only subjected to minimal frictional forces generated in the feet.
In this way the PM 100 ensures a quiet and safe operation with maximum compensation of vibrations even with the largest pulverization forces inside the grinding jars and therefore can be left on the bench unsupervised.
| | |
| --- | --- |
| Applications: | Pulverizing, Mixing, Homogenizing, Colloidal Milling, Mechanical Alloying |
| Field of application: | Agriculture, Biology, Chemistry, Construction Materials, Engineering / Electronics, Environment / Recycling, Geology / Metallurgy, Glass / Ceramics, Medicine / Pharmaceuticals |
| Feed material: | Soft, hard, brittle, fibrous – dry or wet |
| Size reduction principle: | Impact, friction |
| Material feed size* | < 10 mm |
| Final fineness*: | < 1 µm, for colloidal grinding < 0.1 µm |
| Batch size / feed quantity*: | max. 1 x 220 ml, max. 2 x 20 ml with stacked grinding jars |
| No. of grinding stations: | 1 |
| Speed ratio: | 1 : -2 |
| Sun wheel speed: | 100 – 650 min-1 |
| Effective sun wheel diameter: | 141 mm |
| G-force: | 33.3 g |
| Type of grinding jars: | "Comfort", optional areation covers, safety closure devices |
| Material of grinding tools: | Hardened Steel, Stainless Steel, Tungsten Carbide, Agate, Sintered Aluminium Oxide, Silicon Nitride, Zirconium Oxide |
| Grinding jar sizes: | 12 ml / 25 ml / 50 ml / 80 ml / 125 ml / 250 ml / 500 ml |
| Setting of grinding time: | Digital, 00:00:01 to 99:59:59 |
| Interval operation: | Yes, with direction reversal |
| Interval time: | 00:00:01 to 99:59:59 |
| Pause time: | 00:00:01 to 99:59:59 |
| Storable SOPs: | 10 |
| Interface: | RS 232 / RS 485 |
| Drive: | 3-phase asynchronous motor with frequency converter |
| Drive power: | 750 W |
| Electrical supply data: | Different voltages |
| Power connection: | 1-phase |
| Protection code: | IP 30 |
| Power consumption: | ~ 1250W (VA) |
| W x H x D closed: | 640 x 480 (780) x 420 mm |
| Net weight: | ~ 86 kg |
| Standards: | CE |
| Patent / Utility patent: | Counter weight (DE 20307741), FFCS (DE 20310654), SafetySlider (DE 202008008473) |